Tidbits from Then and Now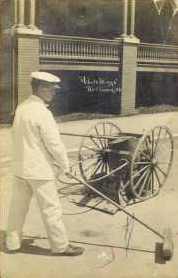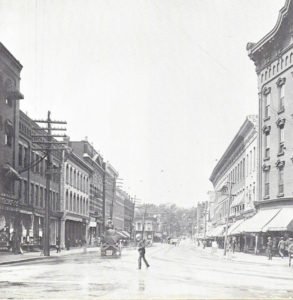 # 6 & 9 - Hookey Jackson and Jack Howard, street sweepers c. 1910
Recently a city ordinance was reestablished concerning the responsibility of pet owners to "pick up" after their pets had deposited their "duty" in a public place. It may surprise some to find that this ordinance was already "on the books", but had not been enforced for many years. Modern technology has come up with a relatively new invention to make life easier for the animal owner. It is called the "pooper scooper." Guess what--modern technology is again reverting to an old remedy. The above photo on right is dated 1909-1913. It shows Alden B. (Hookey) Jackson, who was employed for many years by the city, operating a rather primitive "pooper scooper" in front of the Bardwell Hotel on Washington Street. He was Rutland 's pioneer "Whitewing". Apparently, the title came from the white sanitation uniform he wore while performing his duties as a street sweeper. Remember, at this time horses were the main mode of transportation! His average pay during these years was $400 per year or $1.50 per day.
From the Rutland Herald of October 19, 1929: Pioneer Whitewing Whose Abode was Streetcar, is Dead
Alden B. "Hookey" Jackson, Rutland 's pioneer "Whitewing" is dead. The 72-year-old retired city employee died at Rutland Hospital yesterday morning, following an illness of a few weeks. His 10-year old son, Elroy W. Jackson, whom he had supported during the past few years by the sale of shoestrings and pencils, was by his side when death came. He had been living in an old trolley car, remodeled into a two-room house on Strongs Avenue near the corner of River Street.
Jackson was one of Rutland 's first street cleaners. He was born in Mount Holly on August 6, 1857, son of Mr. & Mrs. Sanford Jackson. He lost his arm when very young and derived the name "Hookey" from the fact that he had a hook at the end of an artificial arm. He is survived by one brother, Walter Jackson. Funeral services will be held Sunday afternoon at 2 o'clock at the Salvation Army Hall.
There was a very interesting letter from Johnnie Francis, who remembers many interesting facts about Rutland 's past as well as more information about Hookey Jackson.
Hookey Jackson cleaned the Rutland streets with a partner, Jack Howard. They used the large metal barrel on two wagon wheels as was shown in the picture a couple of weeks ago. Rutland also had a very large metal tank full of water, on four wheels that was pulled by two horses. This water was sprayed on the streets to keep the dust down. (see picture, tank on right, from postcard dated 1904). They also had a horse-drawn "plow" to clear the sidewalks. According to city records, Hookey worked for the city until 1913. There is no record of him after that date. He apparently went to work for the Davis Feed Co. on Post Street. City records indicate that Jack Howard remained with the city and was caretaker of the city dump on Gleason Road.